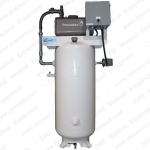 DRE, Inc. - www.dremed.com
- 1800 Williamson Court, Louisville KY 40223, USA

email, Tel.

DRE is a premier medical and surgical equipment supplier that provides a combination of new and professionally refurbished equipment to medical professionals around the globe.
DRE specializes in equipment for the operating room and critical care environment. We offer complete suites of anesthesia machines, monitors, lighting, tables, respiratory ventilators, electrosurgical units, microscopes, defibrillators, and much more.
products: medical vacuum systems for hospital and surgery center use

The innovative control design provides users with one of the most flexible and informative operating systems available in the industry. DRE ensures your facility can take advantage of the latest in system control. Systems are offered using Becker oil-less rotary vane vacuum pumps or Pneumofore lubricated rotary vane vacuum pumps.
Arrangements include receiver-mounted pumps and modular systems which may include stackable or side-by-side module arrangements. DRE often provides custom systems to meet user requirements.