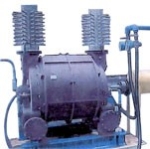 WYESCO of Louisiana, L.L.C. -
- 222 Highway 19, Slaughter, LA 70777, USA

email, Tel. +1 (225) 654-5654

Since its inception in 1979, WYESCO is committed to meeting and exceeding our customer's expectations in terms of quality in the repairs we provide.
products: Service and repair

Nash Vacuum Pumps and Somarakis Vacuum Pumps can be repaired, replaced, upgraded, and retrofitted by Wyesco.
Wyesco also offers O.E.M. spare and replacement parts.