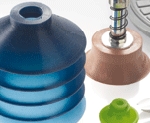 FIPA GmbH - www.fipa.com
- 85737 Ismaning, Germany

Jennifer Gerdhenrichs, email: jgerdhenrichs@fipa.com, Tel. +49 (0)89 9624890

FIPA is an international company, operating in the fields of Vacuum Technology and End-of-Arm-Tooling for all aspects of material flow systems.
products: Vacuum cups

All vacuum cups have the same function in Pick & Place technology: Lifting and shifting parts. The vacuum cups used are entirely different depending on the shape, size and material of the objects to be handled: While one type is flat, the other has folds. Yet another type is oval or has supporting ribs.