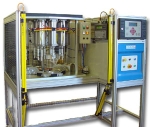 TQC Ltd - www.leaktesting.co.uk
- Hooton Street, Carlton Road, Nottingham, Notts. NG3 2NJ, United Kingdom

email: sales@tqc.co.uk, Tel. +44 (0)115 9503561

products: automatic leak testing machines & leak test systems

The requirement may be for a standard leak testing application or a special purpose leak test machine. TQC combines standard leak test instuments and TQC designed fixtures to provide the best solution to suit the customer specification.
This test machine capability is enhanced by our experience in automated production line equipment and process automation resulting in a complete service to industry.
Leak testing is a niche area of engineering, sometimes referred to as pressure testing or vacuum testing. TQC has the knowledge and expertise to assist the customer in specifying the acceptable leakage rate, or leak limit, and in designing and supplying the leak test machine to reliably test how much an item is leaking..