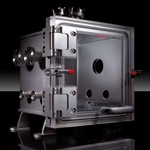 Pfeiffer Vacuum Brasil Ltda. - www.pfeiffer-vacuum.com
- Av. Pedro Bueno, 1783 - Parque Jabaquara, CEP 04342-011 São Paulo - SP - Brasil

email: info@pfeiffer-vacuum.de, Tel. +55 11 3130 7999

Na América Latina, a Pfeiffer Vacuum Brasil é o seu contato de vendas e serviços para produtos de alta qualidade em vácuo. A Pfeiffer Vacuum fornece total suporte através de nossa equipe experiente e profissional, a fim de encontrar a melhor solução em vácuo para você.
produtos: Câmara de vácuo

The centerpiece of a vacuum system is the vacuum chamber which matches perfectly to the application.Vacuum chambers from Pfeiffer Vacuum meet the most demanding quality and engineering requirements to achieve vacuum solutions which are perfectly tailored to our customers' specification. They are used for medium vacuum right up to ultra-high vacuum and can also be designed, built and tested as a pressure vessel for an overpressure level above 0.5 bar in line with the pressure equipment directive (97/23/EC).
Pfeiffer Vacuum is a one-stop supplier for all stages of the process: assistance in finding the right solution for your application, design, manufacture, quality assurance, installation and on-site service.