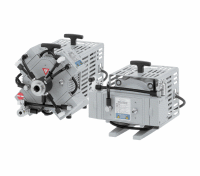 VACUUBRAND GMBH + CO KG -
- Alfred-Zippe-Str. 4, 97877 Wertheim, Germany

email, Tel.

With 160 employees and over 45 years of experience, Vacuubrand manufactures the most comprehensive range of laboratory and instrumentation vacuum pumps, gauges and controllers for rough and fine vacuum. The product range comprises rotary vane pumps, oil-free diaphragm pumps, complete pumping units, flexible vacuum systems and solutions for local area networks.
products: ATEX Diaphragm pumps

Typical applications for chemistry diaphragm pumps include evacuating chemically aggressive gases and vapors from such equipment as rotary evaporators, vacuum drying cabinets and centrifugal concentrators.