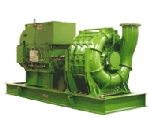 Gardner Denver Nash LLC - www.hoffmanandlamson.com
- Alta Vista Business Park, Charleroi, PA 15022, USA

email: info.hoffmanlamson@gardnerdenver.com, Tel. +1 724-239-1500

Hoffman™ and Lamson™ brands have been setting industry standards for excellence, reliability, and customer satisfaction for over 100 years.
Lamson, established in 1880 and Hoffman, in 1905, are brands customers know and continue to trust. The range of applications for Hoffman & Lamson centrifugal products is ever-expanding and firmly illustrated with the largest installed base of centrifugal machines in operation world-wide. The experienced Hoffman & Lamson team, backed by years of research and development, provides effective, affordable solutions for a variety of applications.
products: multistage Blowers and Exhausters

Hoffman® Centrifugal Blowers and Exhausters Fabricated Series
Airflow Range: 10 - 1,200 cfm, Vacuum to 8 in Hg (271 mbar)

Hoffman® Centrifugal Blowers and Exhausters Cast Series
Airflow Range: 100 - 40,000 cfm, Vacuum to 18 in Hg (610 mbar)

Lamson® Fabricated Series:
Airflow to 2,500 cfm, Vacuum to 8 inch-Hg (271 mbar)

Lamson® Cast Series:
Airflow Range: 90 to 41,000 cfm, Vacuum to 17.6 in Hg (600 mbar)