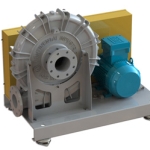 Continental Industrie GmbH Gebläse- & Exhaustorentechnik
- www.continental-industrie.de
Emdener Str. 10, 41540 Dormagen, Germany

email: info@continental-industrie.de, Tel. 02133 259830

products: ATEX multistage Blowers and Exhausters

from 300 up to 45000 m³/h, vacuum from 100 to 450 mbar, discharge pressure from 150 up to 1100 mbar.

Vacuum systems: Vacuum systems for the textile industry, vacuum extraction of fluids, central vacuum cleaning systems, bulk material handling

The growing safety demands on appliances used in hazardous locations does not exempt from modern blower technology:
Especially for landfil-gas, wastegas and Biogases Continental Industrie has designed ATEX-blowers and exhauster for Ex-zones 2 and 1; in accordance with directive 94/9/EC (ATEX 95).