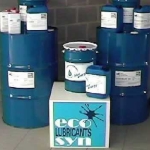 WIPA Chemicals International N.V. - www.wci-nv.com
- I.Z. Durmakker 7, 9940 Evergem, Belgie

email: info@wci-nv.com, Tel. + 32 (0)9 2532600

WCI was founded in 1993 on the desire for technical innovation of superior lubricant products and the commitment to high quality.
The ECOSYN manufacturing plant and main distribution center are located in Evergem Belgium. The state-of-the-art lubricant production plant contains materials blending and bulk storage facilities, as well as a well equiped chemical laboratory.
The main warehouse serves as the hub of an international distribution network; various lubricant packages bearing the ECOSYN label are shipped from here to customers worldwide.
products: Synthetic Vacuum Pump Lubricants

ECOSYN VE/VP Series
The ECOSYN synthetic vacuum pump lubricants are a combination of high grade synthetic base fluids and specially engineered additive systems. They are used successfully for the long term lubrication of rotary vane, screw, or piston type vacuum pumps where the lowest obtainable vacuum is required.