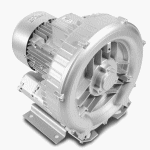 EMMECOM s.r.l. - www.emmecomsrl.com
- Via Guido Rossa, 5, 20061 Carugate (Mi), Italy

Giovanni Tomaselli, email: sales@emmecomsrl.com, Tel +39 02 2533300

Established in the year 2000, Emmecom has been facing a rapid growth by offering solutions to the market based on its thirty years experience in air and gas moving both in pressure and in vacuum. The wide product range is able to satisfy the great majority of applications connected to high demanding customers.
products: Side Channel Vacuum Pumps,

complete range of side channel exhausters
and blowers (500mbar abs -1bar g / 40 - 1300m3/h),
accessories and many other air moving equipment.